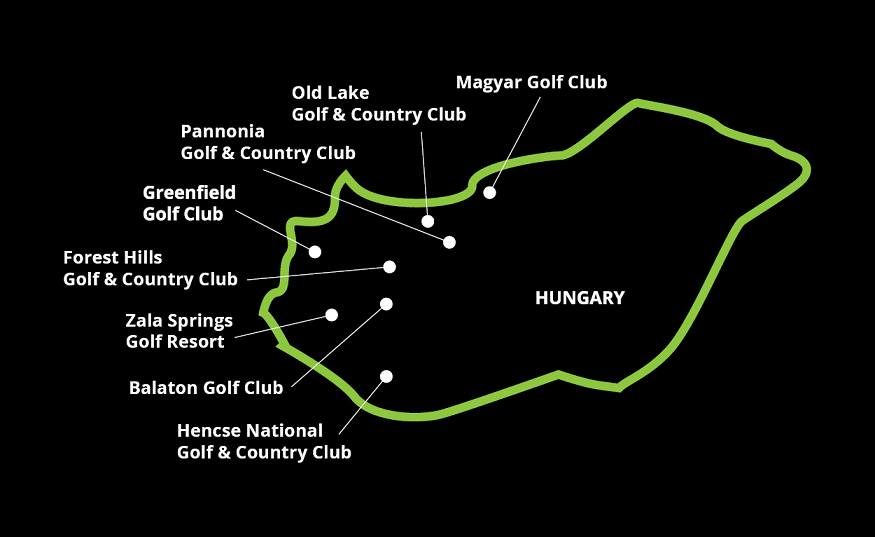 GOLF IN HUNGARY
Hungarian golf has stepped in a very important year in 2011 - celebrating the 100 anniversary of golf existing in the country - in spite of crucial differences. The development of golf resembles very clearly the ups and downs of history in this part of Europe. Even the first step was characteristic: the first golf event in Hungary was organised by NOB-member Count Géza Andrássy namely at a Budapest racecourse in 1902. The first golf course was built in the High Tatras (that time belonging to Hungary) in 1909, and the first tournament took place there too.
The Budapest Golf Club was founded in 1911 this is why 2011 Hungary is celebrating the 100 birthday of golf. The world-famous Mount Széchenyi course at the peak of the Hungarian capital was built in 1921 - even the famous Bobby Jones played the 25 years anniversary tournament there in the late thirties.
The period prior to the World War II. creates the golden age of golf in Hungary: Mrs. Erzsébet Szlávy, 19 times Hungarian, 5-times Austrian, and 4-times Czech champion between 1920 and 1947, was proclaimed as the best player in Europe, and was ranked 5th best ladies' player in the world, after winning the German Championship in 1926.
Following the war golf too became the subject of political discrimination in Hungary, being considered an undesirable sport between 1952 and 1970: all courses have been destroyed and the golf was prohibited - a strange creature of politics in a country which was described as the isle of Gulasch Communism (Gulasch is a well known Hungarian national food)...
The rebirth of Hungarian golf goes back to 1979, when the Blue Danube Golf Club has been organised, and the first course was build near Budapest, at the Kisoroszi isle - but still until 1989 golf was a section of the Field Hockey Association. The foundation of the Hungarian Golf Association dates back to 1989.
Further golf courses were opened in Hungary since 1991 reaching the total number of 18 hole courses 9 in 2010, but unfortunately the economic crises has left undesirable traces back - eliminating same courses in 2011.
The main point of the year 2011 is the organisation of the European Young Masters at the Lake Balaton July, giving the opportunity for the best young and talented players of the country to meet with the high quality golfers of the continent.
Today eight professional golf courses in beautiful surroundings await lovers of the sport of golf. And why should you come to Hungary to play golf?
Because golf is about relaxation, and Hungary is not only renowned for its excellent courses, but also for its cuisine and thermal springs, providing a perfect opportunity to combine a round of golf with a good meal and some wellness – at practically every golf club.